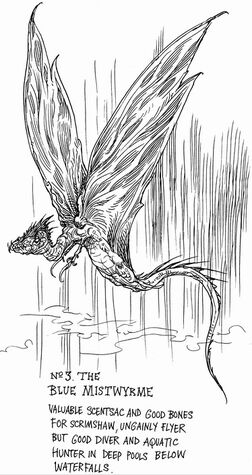 The Blue Mistwyrme
is
the third studied kind of Wyrmes by the Wyrmewatcher, posted on April 12th 2010. It was previoused by the Bearded Rockwyrme and followed by the Common Pitchwyrme. The Blue Mistwyrme was posted on the same day as the Bearded Rockwyrme and the Great Crested Carrionwyrme.
Discription of the Wyrme
Edit
No. 3, the Blue Mistmyrme
Valuable scentsac and good bones for scrimshaw, ungainly flyer but good diver and aquatic hunter in deep pools below waterfalls.
Ad blocker interference detected!
Wikia is a free-to-use site that makes money from advertising. We have a modified experience for viewers using ad blockers

Wikia is not accessible if you've made further modifications. Remove the custom ad blocker rule(s) and the page will load as expected.